Life is not about eating no sugar. Life sucks when you're eating all sugar. Find the balance in between!
Let me guess...
You're feeling stuck with food and feel all sorts of "unhealthy" right now.

You want to feel better about your body, but don't want to start another official diet. You know that type of thing "works" for a few weeks but then you just end up bingeing.

You feel trapped in a cycle where you're "good", then "bad" and just can't find the middle ground. You want to find something to help you live your life, eating foods that make you feel your best. But you also know you gotta eat the ice cream because it's your favorite!! You want to feel good about the relationship that you have with food.

You may have heard about intuitive eating and are intrigued! But you have no idea HOW to actually implement it into your life right now.
I understand what you're going because through I get it. I've been there personally. It's why I've dedicated my career as a Certified Eating Disorders Registered Dietitian, to working with people like you who want to transform their relationship with food.
Binge eating makes you feel powerless over food. Take the power back and live your life on your terms.Intuitive eating is all about eating in an attuned way, connecting your physical body's sensations to your own wisdom about what works for you as an individual. Go on this intuitive eating journey with me that will transform the way you think about food, body image, and health.
Your relationship with food impacts your relationships, social settings, self-confidence, self-care, and respect. If you are caught in the binge eating cycle, chances are you have a lot of shame around the food choices that you make. I want you to get out of the shame-cycle so you can eat confidently and have a better relationship with food.
You CAN Feel Fabulous About Food, and it starts with taking charge of your relationship with food!

You CAN Feel Fabulous About Food, and it starts with taking charge of your relationship with food!
If you've tried other diet programs and still feel pretty bad about how food continues to control you, did those programs address your relationship with food? That's why this program is completely different. You'll learn a different way to think about food and your body. It's not a diet that will solve your problems—it's having a positive,healthy relationship with food and your body. Imagine a life where you have food freedom to make choices that work for you.
If you don't do this, things stay the same. Make that commitment to change things so you feel better.
This course will show you how to you can break with dieting and the scale,getting you to Feel Fabulous About Food. The program has four main components that will teach you how to reconnect with your body and brain, notice your hunger and satiety cues, own and observe your feelings, and work on challenges for your entire well-being.
You CAN Feel Fabulous About Food. You just need to KNOW what works for YOU!
K- Know how your body and brain work together
N- Notice hunger and fullness
O- Own and observe your feelings and improve body image
W- Work on challenges for your entire well being
The Feel Fabulous About Food Course will teach you:
How your body works and why you end up breaking the diet cycle (or why you can't continuously "eat clean", "eat healthy", "follow Keto" or whatever restrictive diet plan you're doing.)
To understand hunger and fullness and how satisfaction plays a role in your food decisions so you can connect with your body again.
To develop skills in meal planning. If you have no idea how to practice intuitive eating, you will discover how to get started and continue learning how to adapt to life situations.
How to finally escape the binge eating cycle for good, knowing why you binge and how to change it.
Ways to take back the term "emotional eating" so you can eat with emotion and enjoy those special events like birthday parties, eating out, and baking with your family.
Skills to reframe your thoughts and feelings and develop coping skills so you don't make yourself feel bad about what you eat.
This course will ultimately teach you that you CAN feel better in the body you have right now. There's no need to "wait" until x, y, or z happens.
This online program is a course that's meant to transform your life. Your relationship with food is going to improve by following the steps and video training in this course.
The Feel Fabulous About Food course is filled with:
Training videos

Handouts

Resources

Specific action steps

An opportunity

to

get

your

questions answered by me!
You CAN Feel Fabulous About Food
What you learn in this course will show you how to take the steps needed to make your life better—to heal your relationship with food.
Knowing that diets don't work is not enough; most people need to learn how to change their habits when it comes to food, and how to have a healthy relationship with food. Intuitive Eating is a process, and in this course you'll discover new ways to eat and the steps to take to reach the goals you have—so you can feel good about food, and your body.
All of this training comes from a professional with years of experience in eating disorder recovery, body image, intuitive eating, and working with clients who have changed their lives by healing their relationship with food.
Click the button below to purchase the course and get started!
Here are all the c
ourse details: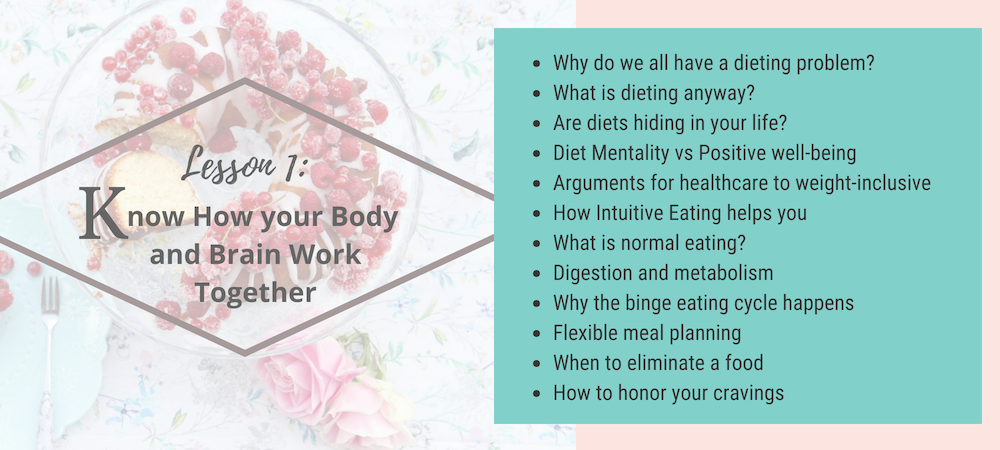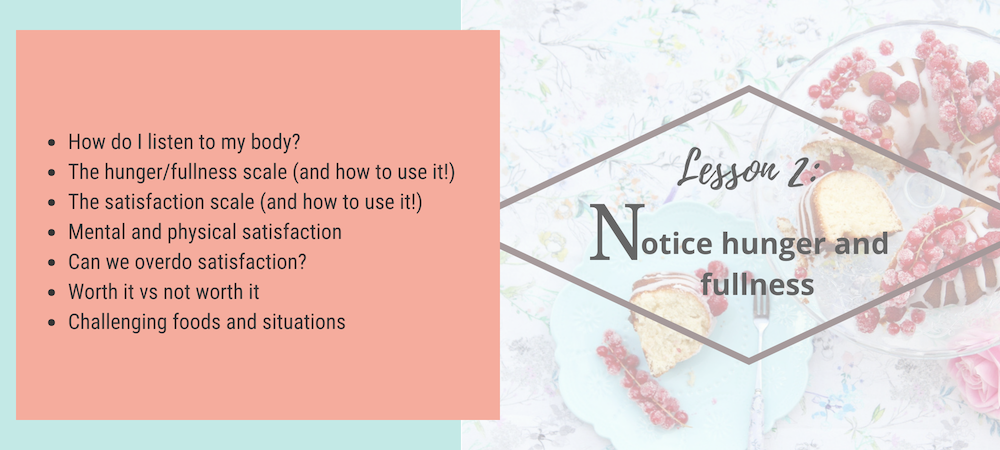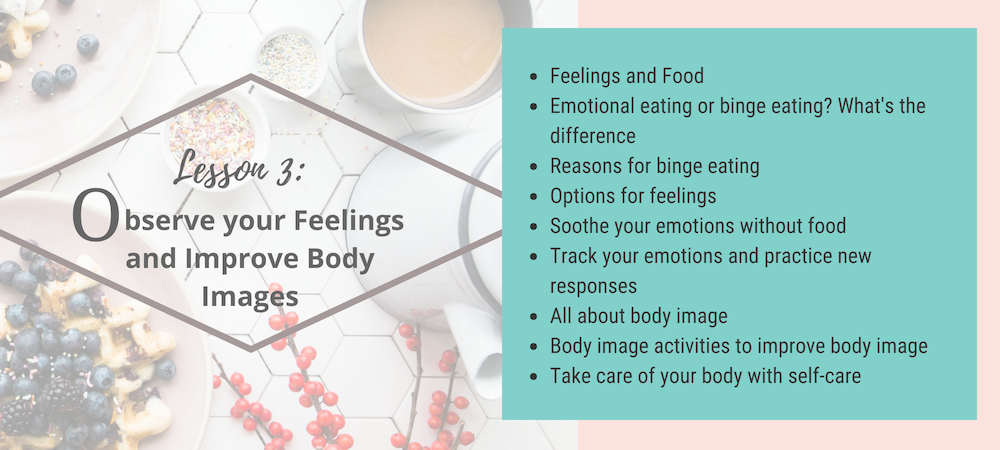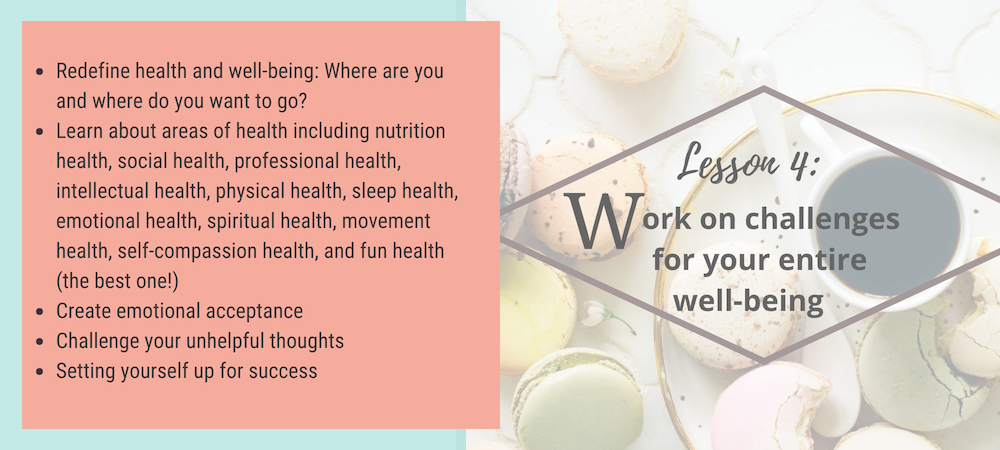 PLUS we have added Bonus items, Handouts and Resources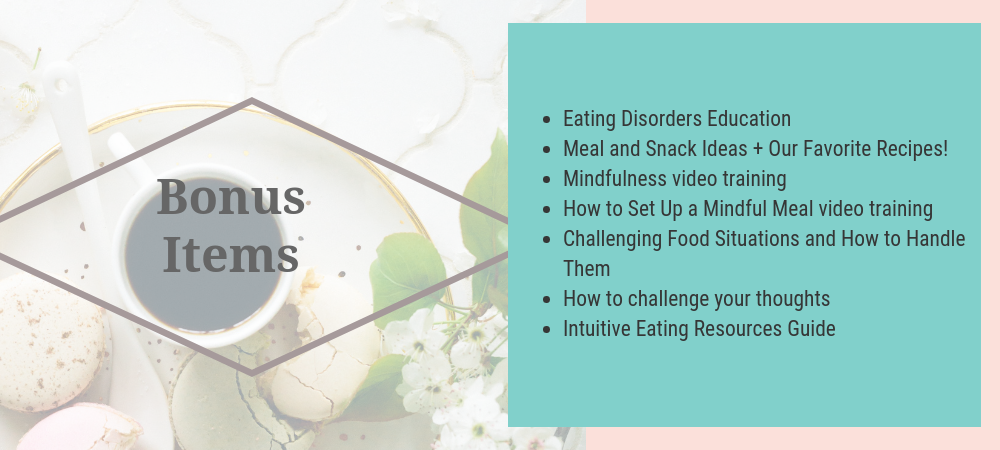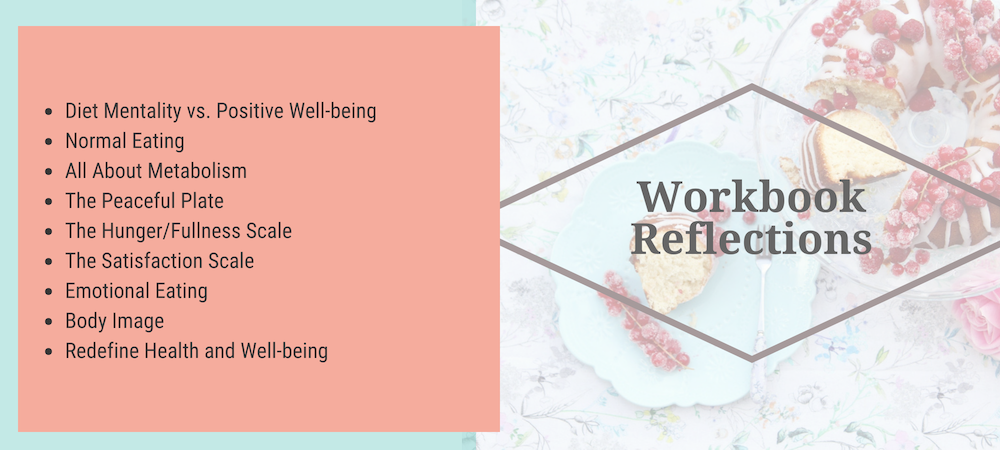 **For Professionals: This course is meant for clients, but I also have a version specific for healthcare professionals.
Just as clients want changes to the "typical" diet culture that we live in, professionals want a different way of providing nutrition advice to their clients. This course was created out of many professional training on eating disorder recovery, intuitive eating, body image work, and working with clients to redefine health and well-being.
This course is based on my expertise with working with over 1,000 clients and my 10+ years as a Registered Dietitian Nutritionist! I've taken my experience and created a course that can help you improve the work you do with your own clients!
You CAN GROW your Practice by Helping Your Clients Feel Fabulous About Food. You just need to KNOW how to work with your clients so that your services work for them!
Click here to get the details on the Help Your Clients Feel Fabulous About Food course for Professionals!
Your Instructor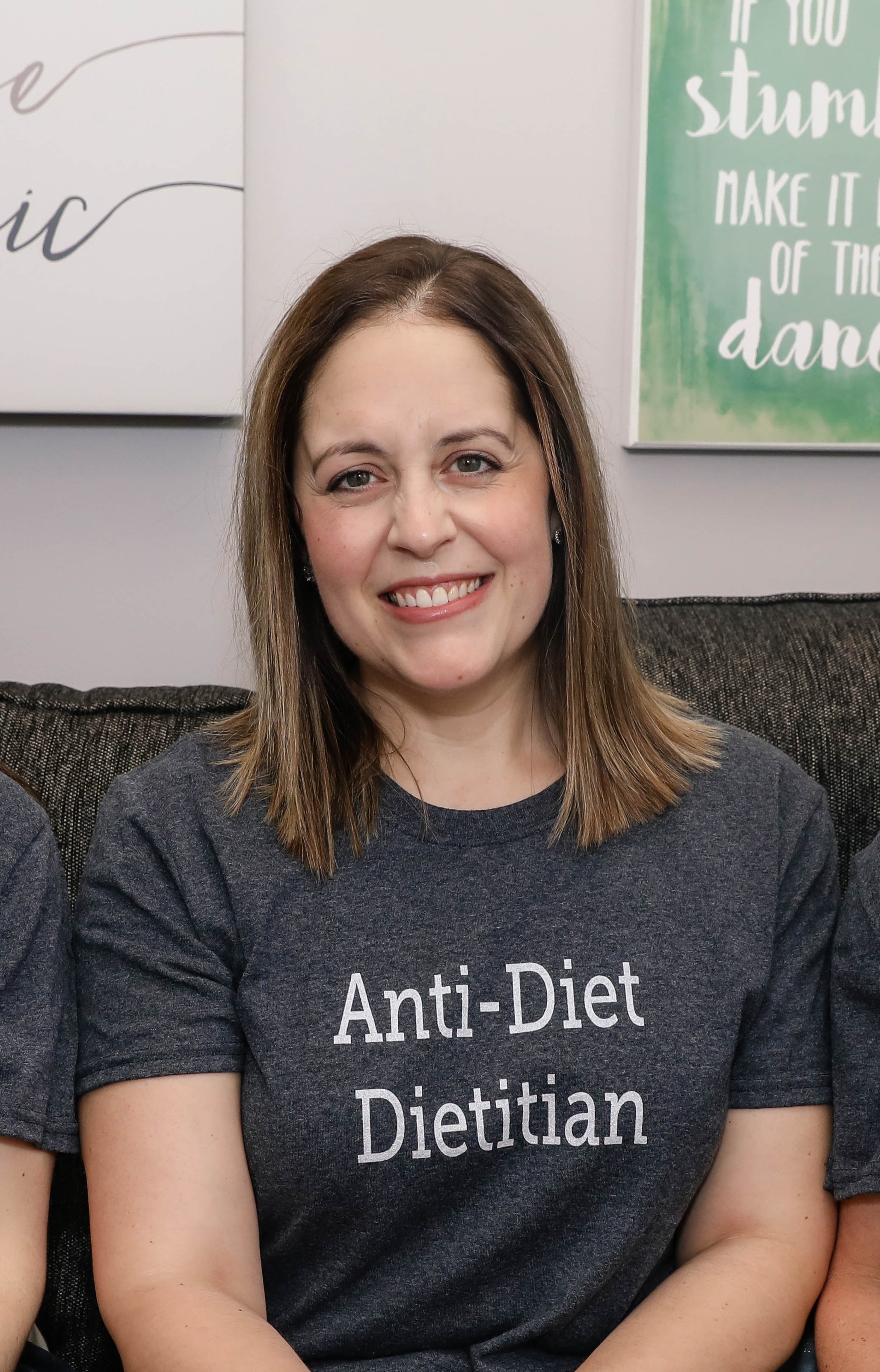 Jennifer McGurk, RDN, CDN, CEDRD-S is a Registered Dietitian Nutritionist who is on a mission to help clients find eating disorder recovery and to also support professionals to build a business that makes an impact in this world.
She is the owner of Eat With Knowledge, a group private practice in Nyack, NY, and leads a team of dietitians that help clients feel fabulous about food.

Jennifer is the creator of Pursuing Private Practice, a business to help other dietitians build a weight-inclusive private practice. She created Pursuing Private Practice: Dietitian Business School membership in 2020 to combine business education, nutrition counseling skills, and accountability to support dietitians who want to grow their business specializing in a non-diet approach to health and wellbeing. Jennifer is the host of the Pursuing Private Practice podcast, where she shares the ups and downs of growing a business and features guests to share their own journeys.
Frequently Asked Questions
When does the course start and finish?
The course starts now and never ends! It is a completely self-paced online course - you decide when you start and when you finish.
How long do I have access to the course?
How does lifetime access sound? After enrolling, you have unlimited access to this course for as long as you like - across any and all devices you own.
How do I know if I'm ready for this program?
You're probably ready if you're here and reading this! Chances are this course intrigued you for a good reason. You might be done with the internal war of struggling with your eating decisions or fed up emotionally with everything diet related. However you want to make changes to the way you eat but know you can't start another diet. Intuitive eating is for you because you will learn to eat again and find peace with food.
I want to lose weight (but do not want to diet), will intuitive eating help me lose weight?
Basically the science of intuitive eating promises 1 of 3 things: • you will maintain your weight, if that is what is best for your body • you will gain weight, if that's what best for your body • you will lose weight, if that's what best for your body It's hard to make a prediction about what will happen to your body because every body is different and has it's own story to tell. The course includes body image work for every body to help you feel better about the body you are in right now (no matter if you like your body or not).
What if I just want to know what to eat?
This program doesn't tell you want to eat but gives you suggestions and recommendations along the way to set up your meals and snacks in a way that works for you. It helps you make food decisions by encouraging you to non-judgmentally tune in to your thoughts, body sensations, and experiences to make decisions that are right for you.
Will intuitive eating help me improve my health?
Intuitive eating is a framework with 10 principles aimed for health (well-being) promotion. Research has linked intuitive eating to improved psychological health, including: • Improved their self-esteem • Improved body image • Decreased anxiety • Decreased depression • Improvement in quality of life • Decreased disordered eating behaviors • Increased physical activity
What if I'm an emotional eater?
Welcome to being a human! We all eat emotionally, but we all don't have a negative experience with emotional eating like some people do. If food is the way you cope, you probably struggle with binge eating. This course is meant for you because it helps you break the binge eating cycle and learn new ways to cope with your emotions. You will have many resources available for you in this course that will help you create strategies to stop binge eating.
I want to buy this now but am super busy. Can I take the course later?
You can take the course whenever you want. You will have lifetime access to the course so as we change things or update material, you will receive all of the updates.
Can I get a refund?
While we do not offer refunds, we promise if you invest the time into viewing all of the material and putting into action the steps and exercises outlined in the program, you will see changes in your relationship with food.